The Monastery has been in the Techiman diocese for almost 32 years but does not have a monastic church and a retreat house. The need for a monastic church and a retreat house has become paramount in the sense that; the community has grown, and our present chapel (intended as a parlor) seats only fifteen people and on Sundays we must celebrate mass in the cloister or under a mango tree. God has blessing us with vocations, the living stones of a community, but we need help to build the physical structure of the monastery. Going further, the geographical location of the monastery is right in the Centre of the country (Kintampo the main center of the country is very close to the monastery) and serves as a rest point for missionaries and other pilgrims who make their way either north or south. Local Bishops do also send their priests for spiritual renewal purposes but are sometimes turned down due to lack of accommodation. Being the only male monastery in the country, the request from religious bodies and civil society for a place of silence and retreat, solitude, and tranquillity from the activity from work, friends, family, and all has an alarming effect on the monastery due to lack of infrastructure, specifically, a monastic church and a retreat house, hence the need to acquire these edifices.
The local people do experience the monks during manual work and yearn to partake in their liturgy, but this opportunity is not available due to lack of room/space in the chapel and also enclosure restrictions. The monastic church, when built seeks to offer the haven for pilgrims who sought to have a quiet time, adoration, and mass when in large numbers and even participation in the monastic offices, before they go on their way.
Below is the conceptual design of the monastic church:
| | | |
| --- | --- | --- |
| Monastic Church floor plan | Monastic Church Front | Monastic Church |
Why that architecture? — Inspired by an anthill as a manifestation of the communal life and work of termites, the design of the chapel reflects the Benedictine monastic philosophy of communal living in diversity. This is metaphorically depicted in spikes rising from different directions and united as community by their convergence towards a cross which stands as a beacon of love, sacrifice and redemption. The chapel, drawing on its organic form and grey hue, also combines indistinguishably with the rock formations which punctuate a vegetative cover to create the existing landscape.  Thus, the chapel rises in unison with its natural environs, further portraying the Benedictine sense of community.
Below is the conceptual design of the retreat house:
 

Retreat House Ground Floor Plan

 

 

Retreat House First Floor Plan

 

 

Retreat House Back

 

 

Retreat House Back 2

 

 

Retreat House Front

 

 

Retreat House

 
The sheer need for Pilgrims to retreat from the secular world to reflect and makes the monastery an ideal haven for this purpose. A Retreat house accommodate up to 50 guests at a time allows for this objective to be realized.

The total estimated cost of the construction stands at:-
For the Monastic Church :
- 2,062,541.32 GHc ( Ghana cedi)
- $ 358,701.51 US Dollars
- € 306,416.07 Euros

The Sum for the Retreat house:
- 4,566,917.84 GHc
- $ 802,699.91 US Dollars
- € 685,635.93 Euros

With the given figures above which excludes finishing, thus;  Pews, Chairs, Kitchen items, kitchen cabinets, bedding materials etc, in total we looking at about. 1,300,000.00 USD.
We would be grateful for donations - large or small - to complete this work.
If you are a taxpayer in the UK we can recover 25p in the pound tax on your donations if Gift Aided.
We are a Registered Charity in the UK under the name of 'GHANA (SUNYANI) MONASTERY TRUST'. Please use this account name for payments by cheque or if you wish to leave a legacy to Kristo Buase Monastery in your will.
For further details of payment methods please contact:
Abbot Mark Hargreaves, OSB, Bursar, Prinknash Abbey, Cranham, GLOUCESTER, GL4 8EX, Great Britain.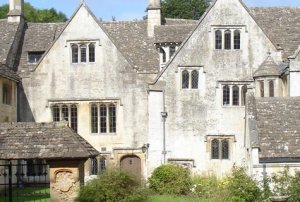 Photo: Prinknash Abbey, our mother house in England.
Wire Transfers From the United States & Europe
Donations can also be sent directly to our GB Pound, US Dollar and Euro accounts in Accra. These same Foreign Exchange accounts can also be used for transfers sent in any other major international currency - other currencies are converted automatically by the bank at the prevailing exchange rate.
DOLLAR
Account: BENEDICTINE MONASTERY OF KRIST-PROJE
Bank : absa bank Ghana
Branch: Accra, High Street
Account No: 064 1150223
Swift code: BARCGHAC
EURO
Account: BENEDICTINE MONASTERY OF KRIST-PROJE
Bank: absa bank Ghana
Branch: Accra, High Street
Account No: 064 1123587
Swift code: BARCGHAC
POUND
Account: BENEDICTINE MONASTERY OF KRIST-PROJE
Bank: absa bank Ghana
Branch : Accra, High Street
Account No: 064 1137774
Swift code : BARCGHAC
For donations from Ghana please contact:
Fr Antony Buaful, OSB, Kristo Buase Monastery, P.O. Box TM-291, TECHIMAN, B/A, Ghana.
Our Ghanaian bank accounts are in the name of "BENEDICTINE MONASTERY OF KRISTO BUASE".
You can also donate using MTN MOMO PAY
Number - 0558742601
Merchant name - Benedictine Monastery of Kristo Buase
Merchant ID - 704394
WE PRAY DAILY FOR OUR BENEFACTORS AND OFFER A WEEKLY MASS FOR THEIR INTENTIONS.