We have five single rooms in one wing of the monastery which are available for those seeking a period of retreat or quiet reflection. In recent years we have also seen an increasing number of foreign travellers and backpackers who have heard of the monastery by word of mouth or through the entry in the Bradt Guide to Ghana. Accommodation is simple: single rooms with private showers but shared toilets.  Each room has a private verandah backing onto the garden. 
In keeping with monastic tradition, we do not charge for accommodation or meals, but in order to cover our costs, the suggested donation is 50 Ghana Cedis per day full board (40 Ghana Cedis for Catholic priests and religious). Any profits are fed back into the monastery's charitable work.
Bookings can be made by e-mail (the "Contact us" box on the Contact page sends directly to our e-mail account); but we prefer enquiries about room availability to be made to the Guestmaster, Br Basilio Zaa-Liebe, by phone - 026 949 8449. If you cannot get through, send a text message and he will phone you back.
Recent guests have been from USA, Korea, the Netherlands, Belgium, Sweden, France, Germany, Togo, Burkina Faso, Nigeria, England ... and of course Ghana. This photo, showing the rock shelter at the monastery, was taken by Jimmy Lee of the Peace Corps, who visited recently with his parents Lucia and Felix Lee.
Forewarned is fore-armed!
The monastery guesthouse is rather different from a hotel, and has no TVs, no bar, no special menus. However, it enjoys one of the most stunning locations in Ghana.
We grow as much of our own food as we can and there is often fresh salad available at supper. Meat is served only on Sundays and Thursdays (we eat a lot of fish). If we are given advance notice a vegetarian alternative can normally be provided. Fresh fruit is normally served twice a day with meals.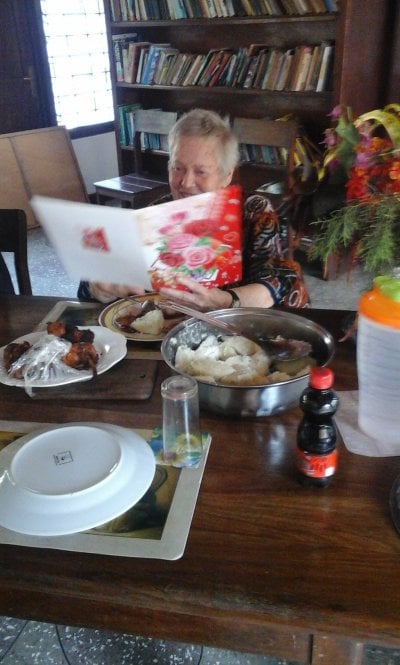 Dinner (12.45) and supper (6.30) are taken with the monks in the refectory. Breakfast is self-service (7.15 - 8.00 a.m.). If you will be out for meals, or would like food kept for a late arrival, please notify the guestmaster.
Wednesdays and Fridays have fasting suppers with bread and eggs, or bread and salad, with fruit.
The main gate is locked at 6.30 p.m. and not opened again until dawn. The monks go to bed at 8.30 p.m. Please try not to arrive too late.
Silence is Golden ...
Many of our guests come specifically for the peace and tranquillity of the environment. We ask all our guests to respect the monastic greater silence (which runs from 8.30 p.m. to 6.30 a.m.) and to be considerate with noise during times of prayer and rest.
Closed periods
The Guesthouse normally closes from 22nd - 29th December, and during the Community's annual retreat.
In order to keep a spirit of recollection in the monastery during Thursday, Friday and Saturday of Holy Week (the three days before Easter Sunday), we only accept bookings at that time from guests coming for religious motives.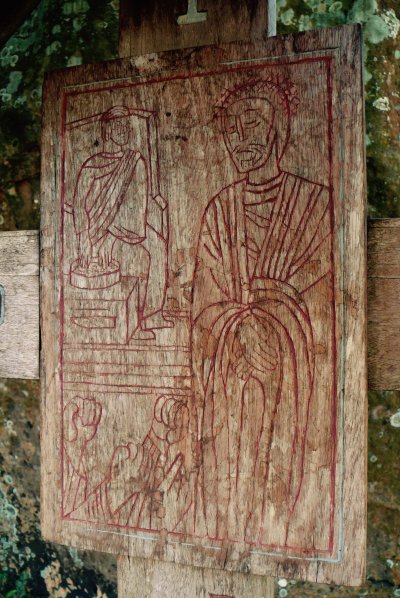 Where to next? Go to the following page of our website for tourist sites which can be easily reached from Kristo Buase Monastery, Techiman:
Local attractions