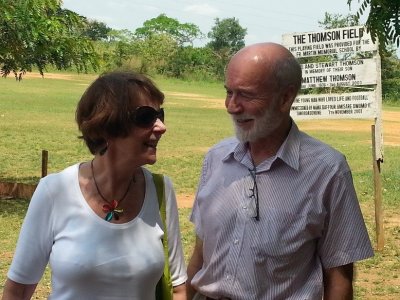 I visited Kristo Buase from 22nd March till 4th April 2017 with Robert and Mary Jones, Oblates of Prinknash. We were there partly to visit the Monastic Community and catch up with our friend, Fr Bede, who was elected Prior of Kristo Buase last Summer, and partly to continue our mission to promote Teams of Our Lady (Equipes Notre-Dame). It was Robert's and Mary's fourth visit to Ghana since 2014, and my fifth visit since 2003.
Teams of Our Lady is a Catholic organisation for Christian married couples who want to develop their relationship with God both personally and as a couple, and for priests and religious. Most Teams have about 4 to 6 couples and a spiritual counsellor (Usually the priest or religious)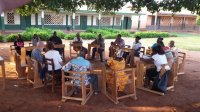 and meet together monthly in each others' homes for a meal and to discuss, pray and share the ups and downs of everyday life. During three visits to Ghana, Robert, Mary and I obtained the consent and support of Bishop Dominic of Techiman to promote the organisation. We had a good response and there are now established Teams in Tubuodom and Tanoboase, the towns nearest to the monastery. Br Gabriel is the first Team Chaplain in Ghana.
It was also good to see the KB monks again and catch up with Fr Bede. Kristo Buase became independent from my monastery, Prinknash in August 2016, which is why they elected their first Prior.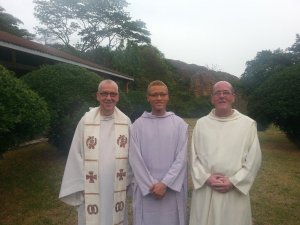 It was good to see how the community has grown since my last visit. Three are studying – Br Antony and Br John in Ghana and Br Cyprian at Pluscarden. Br Martin is back at Kristo Buase now after his formative years in the UK. Brs Gabriel, Basilio and Patrick soldier on as the seniors, and it was a joy to see Brothers Gregory and Louis again. Whilst we were there, Br Collins was clothed as a novice and given the name Mark, after one of the first three founders of Kristo Buase.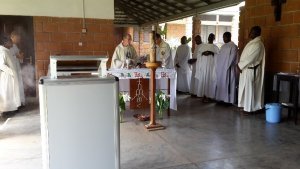 Fr Bede's self-sacrifice in taking up God's call to be superior in Ghana is impressive, and we pray that God may sustain and bless his efforts. I know from experience that the climate alone in Ghana drains the energy. There is also the challenge of comprehending a culture which at times is as hard for us to understand as, perhaps, our culture is hard to understand for Africans.
I noticed on this visit that the monastic community growing strong and that the dedication to the Divine Office, lectio divina and personal devotion is also strong. Most of all I noticed that the monastic enclosure is becoming more tangible and there is generally less noise. KB is truly well-established in Ghana and affects the lives of many people.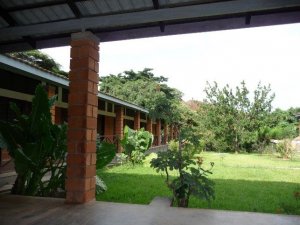 Fr Martin McLaughlin Prinknash Abbey
---
Other posts